American History Databases
History Databases for Influential Americans
OR, you can search all of these databases at the same time, plus a few others using:
History Research Center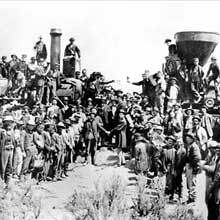 Organizes history by conflict, including the American Revolution, War of 1812, American-Indian Wars, Civil War, and more!

Covers a variety of World events, people, and topics from 1450 to the present.
E-book version of Reference Books we have in the library.
If the individual died within the past five years, search using InfoTrac database.

MasterFILE Premier
Instead of using Google, use Webpath Express to find credible websites!
If your Influential American is an author, try these databases:

Citation & Research Tools
Example of Changes to MLA Format
MLA 7 (old):
Sundquist, Eric J. "The Japanese--American Internment."
American Scholar 57.4 (1988): 529. MasterFILE
Premier. Web. 28 Oct. 2016.
MLA 8 (new):
Sundquist, Eric J. "The Japanese--American Internment."
American Scholar, vol. 57, no. 4, 1 Sept. 1988,
pp.529-547. MasterFILE Premier. http://search.ebscohost.com/login.aspx?direct=true&db=f5h&AN=5317985&site=ehost-live
From ChromeBooks and Desktop computers:
Change printer to HTPS

Cloud Print

Retrieve job at the copier by using your school ID number or swiping ID card on the

computer

High light your job

Hit print & delete

Logout
Why You Need Library Databases